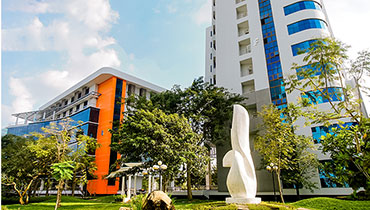 Ton Duc Thang University INSPiRE Library is located on our main campus, 19 Nguyen Huu Tho Street, Tan Phong Ward, District 7 with 129 billion VND invested in.  INSPiRE Library has an area of 8,678 square meters.
Learning Commons is the model the library was built on. The building has 7 stories and a basement for studying overnight. Each floor has its main decor color and name. The Library name is the combination of first letters of 7 floor names: Ground Floor – Indurance, 1st Floor - Nisus, 2nd - Sagacity, 3th Floor – Progress, 4th Floor – Initiative, 5th Floor – Responsibility, and 6th Floor- Excellence. 
In INSPiRE Library, users are encouraged to communicating in English. Our available learning and researching environment can serve nearly 3,000 users in total at a time:
-    Learning commons: 09 presentation practice rooms, 03 group study rooms, 02 video rooms, 01 online conference room, creative media zone and more.
-    Information services spaces: information desks, new book displays, computer areas, quick access, sprint stations, self-check station and more.
-    Social meeting area: meeting points, coffee area, newspaper area, exhibition lounge and more.
-    Special services & products spaces: TDTU Museum, TDTU research outcomes display area and more.
-    Administration spaces.
INSPiRE Library is, especially, designed by TDTU faculties and students. Their design concepts, styles are up-to-date and unique in Vietnam by then.  
TDTU INSPiRE Library is the most modern library in the country and meets world standards as using latest library management methods for operating management, exploiting management and development management, including APLEPH Software with its outstanding feature, course material management module and other application such as Primo Central Index, SFX and Metalib from Ex Libris, which is already using in many top university libraries around the world like Harvard, Oxford.
Moreover, automatic machines with RFID Technology are equipped in INSPiRE Library such as Sorter and Return machine, book shower, self-check machine, access control, multi-functional printers and others. 
All those are to promote self-studying, researching and optimize all library management activities with better results than the previous technology.  Our sufficient and available information resources comprise not only a large range of collections but only millions global academic resources including scientific research, e-books and many other materials collected from both global publishing houses and university open resources. INSPiRE Library offer users many services that are available in other world TOP 100 best university libraries such as: interlibrary loan, information and reference, learning, teaching and researching support, circulation services to maximize user access to our available resources.
Library plays a role as the heart of a university. Our mission is to inspire TDTU Community in learning and researching, unlock individual potential to build a liberal education full of traditional values, raise good citizens to contribute towards our society.