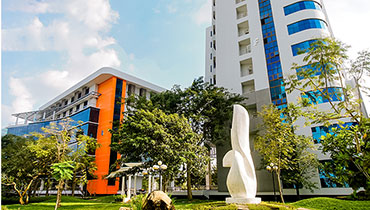 With 7,800 m², INSPiRE Library is located on Ton Duc Thang University HCMC Campus. INSPiRE Library is notable on campus for its 7-story building and the Moonlighting Area. The whole building can seat more than 2,000 library users and it's designated to be a modern learning commons that meets international library standards. INSPiRE Library is proud to be one of the most modern university libraries in Vietnam.
INSPiRE Library pioneers to keep up to date with the latest integrated technologies in terms of  managing, controlling and improving our services and resources. At INSPiRE Library, learners and researchers may access to comprehensive information resources. To be the heart of the campus, INSPiRE Library aims to inspire users in their studies and promotes exploration, creation, collaboration and sharing knowledge across the campus community. There are a large range of spaces for users to choose if they're seeking for a place that suits their needs. Spaces for learning, services and meeting  are available for use. 
INSPiRE Library is designed by  campus faculties and students, who're anxious to bring state-of-art and unique concepts of modern learning spaces into real life.
We not only offer library users  a wide variety of accessible information resources and spaces , but also provide useful services which are popular among TOP 100 university libraries around the world. Connecting to our dedicated staff, using the latest technologies and inspiring spaces we provide will enrich your learning and researching experience.